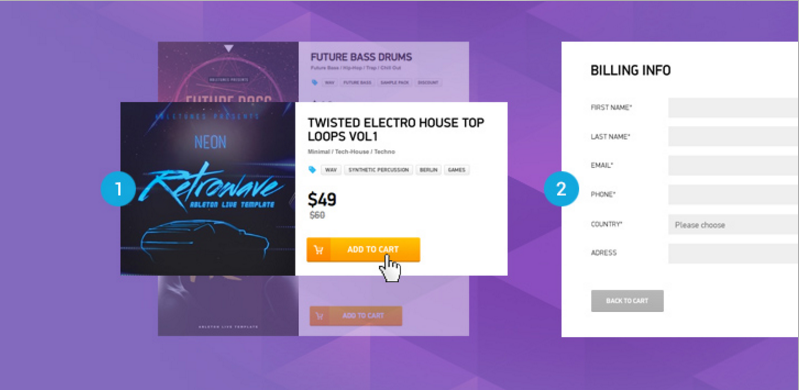 Given that today's brands and retailers have an enormous opportunity to access and leverage customer data, I would think that they were equipped deliver highly relevant product recommendations, promotional offers, and a bespoke customer experience. The customer data is out there and accessible; the issue is finding the right tools to collect, analyse, and leverage it.
We gather around 5 million pieces of consumer-generated content (CGC) per month, and we see over 26 million active shoppers in the network each day. Thanks to this data, many of our brands and retailers are able to use insights from CGC to inform their digital strategy — here are several ways CGC can improve customer experience for your business.
1. PROVIDE A MORE PERSONALIZED EXPERIENCE
Health & beauty brand Kiehl's displays useful product reviews to their online shoppers, but they go one step further to provide an even better shopping experience. When customers are reading reviews, they are able to customize the display by using filters based on age range, gender, and other demographic information. In addition, Kiehl's customer service responds to certain reviews, increasing trust and engagement between the brand and its clients. By providing a more personalized experience, customers are better able to tell whether Kiehl's products are the right fit for them.
2. INCREASE ENGAGEMENT THROUGH VISUAL CONTENT
Visual content, especially visual content that comes from your customers, brings your products to life. When photos and videos are included on your product pages, customers can see how your products translate to the real world.
Feelunique, a UK-based beauty retailer, has seen significant results from including visual consumer-generated content on their website. In fact, they go beyond the product pages; they have also created a shoppable photo gallery, and shoppers engage with both.
"Visual content is key to helping convey someone's experience of a product," explains their Marketing & Customer Experience Director, Tom Newbald. "Makeup is highly visual and expressive, and there is already a wealth of fantastic imagery out there from customers who love using social channels to share…We have tested many different types of content, and visual content harvested from customers has proven to be more engaging and have higher click-throughs than professional or stock photos."
3. FOSTER LOYALTY BY PROACTIVELY ENGAGING CUSTOMERS
The examples I've mentioned so far have been about improving customer experience on your website. A positive customer experience doesn't end with just your online presence. Bazaarvoice best-in-class performing clientsrecognise potential in this area and would like to do more with CGC. While 96% of the respondents to our survey stated that leveraging CGC outside of their website is important, only 40% believe their companies do this well. How can you go beyond your website to proactively interact with your customers? One way is to reward your loyal customers with the opportunity to test and review new products.
With more than 400 brands used in homes around the globe, Unilever is one of the most successful corporations to utilise CGC to promote its brands and engage with customers. When launching their enigmatic T.O. by Lipton tea machine, Unilever wanted to make sure they created buzz with customers and also had influential reviews from day one. To do so, Unilever ran a Sampling campaign in which select customers were able to test and review the machine prior to the launch. Not only did they collect conversation-driving reviews, but they also strengthened their relationship with existing customers.
4. DELIVER A SEAMLESS OFFLINE AND ONLINE SHOPPING EXPERIENCE
Another way to go beyond the online customer experience is to feature CGC in your print marketing and in-store experience. Today's customer journey spans all devices and channels, and their experience, whether on the web, in store, or mobile, must be consistent. Featuring CGC across all of these channels is one way to create a seamless customer experience.
While Bristish supermarket chain Waitrose was seeing positive engagement and conversion lifts from product reviews on its online channel, 95% of revenue was still being generated in-store. Through consumer ratings and reviews, Waitrose were able to confirm that the highest rated products were also the best performers online. To amplify this CGC and reach the bulk of Waitrose customers, Waitrose launched the nationwide "As Loved by You" campaign. With this initiative, customers' highest rated products were promoted through the website, email, in-store displays, and print marketing. The results speak for themselves — the campaign was Waitrose's single most successful in-store campaign of that year.
Today's consumers are truly omnichannel users, and it vital for brands and retailers to reach their shoppers at every available touchpoint.
5. INCREASE BUYER CERTAINTY
At the heart of CGC is trust. You may have the best marketing in the game, but today's shoppers have learned not to trust traditional marketing and advertising. CGC shows shoppers that real people, just like them, have purchased and enjoyed your products. Including CGC on your website builds trust and authentic connection with your customers and decreases uncertainty around your brand and your products. With decreased uncertainity comes increased conversion.
At our recent annual European client event, Bazaarvoice Inspire, our client Debenhams was featured as a best-in-class example of CGC strategy. Their effort to increase review volume ultimately led to higher conversion rates. Debenhams has gathered and displayed more than 760,000 total reviews across thousands of products, and a significant portion comes from more than 800 brands that syndicate their consumer content to the retailer site.
"We know that reviews instill trust in our customers, fill in knowledge gaps, and strengthen their intent to purchase," says Nikki Watson, Head of Optimisation at Debenhams."While ensuring we are connecting with shoppers and assisting with their purchase decisions, instilling trust is always driving our efforts with customer reviews," explained Carly Hounsell, Product Review Coordinator. "Conversion is also a key metric we are looking to increase, and our analytics show that products with more reviews experience a higher level of conversion."
The results from Debenhams are echoed across the brands and retailers in our Network. Increase CGC, increase trust, increase conversion.
Based on these examples and many more I have seen throughout my experience here, I strongly feel that while challenges persist around aggregating consumer data to create one unique view of each customer, the right tools exist to turn that data into insights about customer behavior and experience. Maximizing consumer-generated content is just one such way to improve customer experience. Today's digital tools make a positive, seamless customer experience more possible than ever — it is simply up to each brand and retailer to take advantage of them.